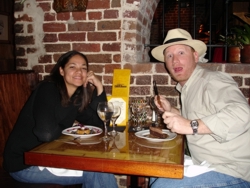 Welcome
Welcome to Tschirhart.net. Please feel free to reconnect to or keep in contact with other Tschirharts in the Kansas City area. (And if you're not from the Kansas City area, please feel free to stick around and say "Hi.")
If you'd like, you can join our message board, or browse through some of the photos in our gallery (the majority of them feature my wife and me) .
We also have some reunion photos from our last Tschirhart get-together in June of '05.
There's not much to the site now, but we'll eventually grow. In the meantime, on the left-hand side of the page, I've pasted some handy links to some excellent sites dedicated to combating urban legends, medical quackery and general misinformation. I encourage you to visit them, as they are valuable sources of information.